PMC Unpaved
Safety
While riding during PMC Unpaved – as well as training on your own and with other riders – please be respectful of everyone you are sharing the road with and keep safety in mind.
PMC Unpaved is a ride, not a race
Keep the following in mind as you prepare for PMC Unpaved on September 23, 2023.
Share the Road
The PMC Unpaved routes are entirely on public roads shared with motor vehicles and pedestrians. Please ride defensively.
Proceed With Caution
Assume that intersections will not be controlled; you must stop, yield, or otherwise adhere to all traffic regulations, signs, and lights like any other user of a public road.
Follow Instructions
If you do receive any verbal or physical directions from public safety officials or PMC Unpaved volunteer personnel, you must strictly obey them.
Pass on the Left
Stay to the right side of the road, ride single file whenever vehicles are behind you, and call out "On your left" whenever passing. Never pass on the right.
Be Courteous
We are guests in these communities this weekend. Please be friendly to all pedestrians, other cyclists, and motor vehicle operators.
Pay Attention
Each of the two routes is approximately 50% unpaved, generally a combination of dirt and crushed stone. While this kind of riding is not overly technical, it does require constant attention by the rider, especially when descending.
Eyes on the Road
Expect the unpaved surfaces to be loose, with potholes, bumps, piles of loose stones, and sand.
Beware of Wet Conditions
If it has recently rained, expect the surface to be muddy and slippery; standing water could be masking holes that can bring down an incautious rider.
Slow Down
When in doubt, ride more conservatively – remember that PMC Unpaved isn't a race – and reduce your speed earlier on descents and before turns than you normally would on pavement.
Be Visible
Use a bright tail light, one that can be seen even in daylight, to catch the attention of overtaking vehicles. In addition, Massachusetts law now requires cyclists to use front and rear lights a half hour before sunrise and a half hour after sunset.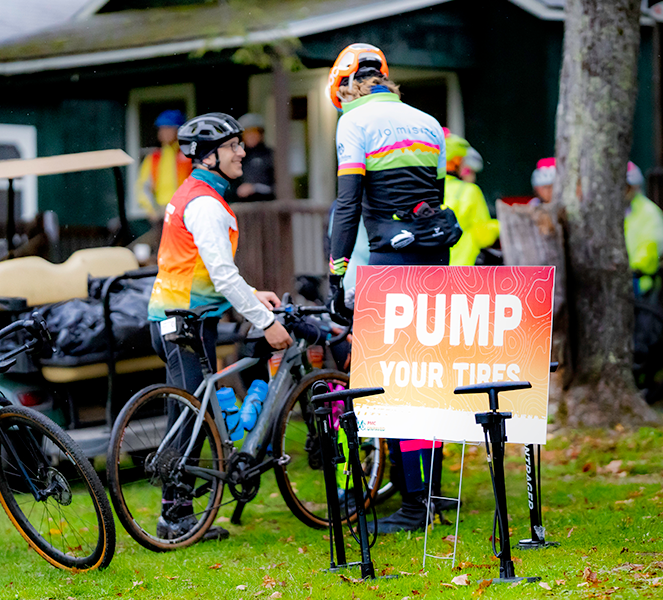 Equipment PMC Unpaved Riders Should Use
Ride a gravel or mountain bike. No road or hybrid bikes.
PMC Unpaved features hilly routes, with about 100 feet of climbing every mile. Your bike should have a low gearing ratio (ideally 1:1 or lower) to avoid walking on the steepest hills.
For tire choice, go with a width of no less than 32 mm; even wider is going to be more comfortable.
Rim brakes are not recommended; opt for hydraulic disc brakes that can slow you down faster, particularly in wet or muddy conditions.
Carry an extra tube, a pump or CO2 cartridge (with nozzle), and a tire patch kit.
Carry at least one large water bottle that fits snugly in its cage. It's potentially dangerous for you and others when your water bottle ejects on a steep and bumpy descent.