PMC Unpaved
Our Team
Committed to PMC Unpaved, team members all have personal reasons for why they PMC. In addition to their roles, most PMC Unpaved team members – professional and volunteer staff, board members, and advisory board members – are either previous or current riders or volunteers for PMC events.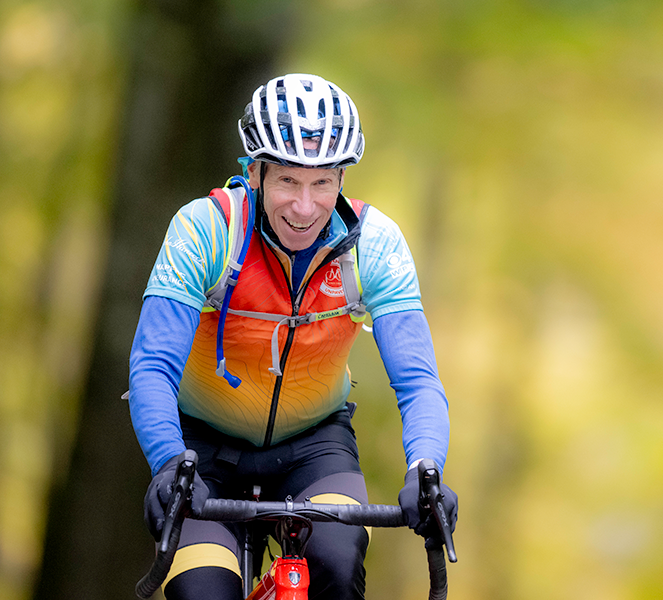 "PMC has always been about hope, health and humanity and it has always been needed. In these times people want to be a part of something good and that makes a positive impact."
- Billy Starr, Founder and Executive Director, Pan-Mass Challenge
Sorry!
No items currently match your filtering criteria.
Volunteer Head Staff
The Volunteer Head Staff donates an incredible amount of time and energy to the event throughout the year.
SUSAN BROGAN
MATHEW MCGUINESS
JEFF RIMPAS
LES LAPUTZ
WIL CARROLL
ANTHONY POLCARI
MIKE SOGARD
SUSAN PESATURO
JACK MOWATT
JULIE PAQUIN
ARTIE PAQUIN
TIM GOVER
JEN HARTNETT-BULLEN
ALLAN EYDEN
BJ TYNAN
Board of Directors
Formed in 1994, the board of directors provides fiduciary and strategic oversight to the organization.
Billy Starr, President
Founder and Executive Director, Pan-Mass Challenge
Mike Dee, Chairman
President of Sports, Audacy, Inc.
Caren Deardorf, Secretary
Chief Commercial Officer, Magenta Therapeutics
Mike Ascione, TREasurer
Managing Director, Berkshire Partners
JOSH BEKENSTEIN
Chairman, Board of Trustees, Dana-Farber Cancer Institute
Susan Brogan
Executive Director, Albert Research Institute for White Matter and Cognition
Lois Cornell
Executive Vice President, Massachusetts Medical Society
MELANY DUVAL
Senior Vice President and Chief Philanthropy Officer, Dana-Farber Cancer Institute and the Jimmy Fund
ALAN EINHORN
Partner, Foley & Lardner LLP; Legal counsel to the board
David Fialkow
Managing Director, General Catalyst
Jonathan Gilula
EVP Business Affairs, Boston Red Sox
René Jones
Chairman and CEO, M&T Bank
Jeff Rimpas (ex-officio)
PMC Head Staff; Senior Engagement Manager, ELLKAY
Bekah Salwasser
Executive Vice President of Social Impact, Boston Red Sox; Executive Director, Red Sox Foundation
Robert Smith
Managing Partner, Castanea Partners
Setti D. Warren
Executive Director, Institute of Politics at Harvard Kennedy School
Advisory Board
The PMC advisory board is a non-voting group that serves in an advisory capacity to the PMC Board of Directors. The advisory board is composed of 11 highly dedicated riders, sponsors and volunteers who will help spearhead continued growth and innovation for the organization. These individuals have demonstrated tremendous fundraising dedication, as well as a deep understanding of the PMC mission.
Judy Adler
Philanthropist and Community Activist
Mark Burak
Attorney, Ogletree, Deakins, Nash, Smoak & Stewart, P.C.
Matt Chase
PMC Rider & Volunteer
Nicaela Chinnaswamy
PMC Volunteer
ROBERT D'ANGELO
President, '47 Brand
KELLY GROSS
Director of Client Engagement, Brand Content Inc.
Drew Harrington
Co-Founder, Yasso Frozen Greek Yogurt
Hannah Hellebush
Marketing Director, Dragonfly
David Hellman
Former PMC Professional Staff
Lisa Hughes
WBZ-TV Anchor
Andrew Janower
Managing Director, Charlesbank Capital Partners
MATT MCGUINESS
PMC Head Staff Member; Physician UMass Memorial Medical Center
Jamie Mittelman
PMC Rider
Gordon Prichett
PMC Chairman Emeritus
James Shulman
PMC Treasurer Emeritus
Steven Singer
Senior Vice President of Communications, Dana-Farber Cancer Institute; PMC Board Member Emeritus
Brenda Williams
Director of Operations, MAPFRE